<![if !vml]>

<![endif]><![if !mso]> <![endif]><![if !mso & !vml]> <![endif]><![if !vml]>

<![endif]><![if !vml]>

<![endif]>  <![if !vml]>

<![endif]>

                                                     (Back to the menu - click here.)

                                "Scandal" - an explosive song-and-dance drama"

                                       <![if !vml]>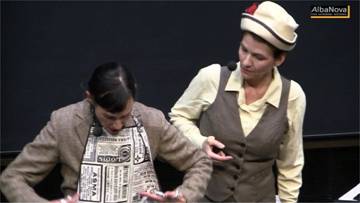 <![endif]>
                                                       Åsa Karlin & Tess Paulsen
"Scandal" - an explosive song-and-dance drama about women who were and who were not
 awarded the Nobel Prize for physics, chemistry and medicine.
 In "Scandal" we get to meet six of history's female scientists that have received the Nobel Prize
 and a couple that were left without. We ask questions about structures and habitual patterns,
 show off prejudices, act out injustices and sing songs about scandals - all mixed with hard facts
 and statistics.
                       More info at:  http://www.besattateatern.se/om-oss
The future colloquium program can be found at: